5 Best Trench Coats Women Need for Spring
This post may contain affiliate links, meaning when you click the links and make a purchase, we may receive a small commission, at no cost to you, if you make a purchase through a link.
Are you looking for a classic style trench coat to wear this spring?  We have found the 5 Best Trench Coats Women need for Spring.
We've searched high and low and found the best investment piece to add a true wardrobe staple to your personal collection.
Fashion editors scramble to find staple pieces that can live up to the women's trench coats designed in our history that can stand the test of time. The eponymous Burberry trench coat has set an industry standard in this area.
Not only have we found the best Trench Coats you need for Spring but we'll also show you where to get them and find that classic look and be a true staple in your closet. 
We love the classic and simplistic style of Audrey Hepburn and enjoy using her as our benchmark for fashion.
That's what makes us different at ANGIE + WES, we go further than just showing you great looks, we provide our style tips as well as a link to purchase the classic trench coat you've been searching for.  
Whenever you travel, whether it's for work, or special events, no matter where you need to go, the trench coat is a great option that will add the finishing touch and fresh take on your look.
Our Style Guide for 3 things you should look for in a timeless design and Perfect Trench Coat for you:
1. The Fabric – Fabric should be lightweight/preferably Cotton
2. The Cut – The Cut should compliment your silhouette
3. The Length – The Length should enhance your silhouette 
5 Best Trench Coats Women Need For Spring
It may cost a little change but when you consider how long you will have this statement piece, it will prove more than worth it to own your very own trusty trench coat.
These simple tips should equip you to be well prepared to rock the best women's trench coats to wear this spring.
If you're reading this article, chances are you're in the market for a lightweight jacket and if you've experienced the 'I'll know it when I see it' – we hope you'll find it here!
You know what you like and don't like and when you're shopping and nothing clicks you keep on looking until something happens and the "THAT'S IT' moment hits you – we hope this is what happens with the choices we've provided.
There is an article in Forbes Magazine on 'How to Buy a Statement Coat', in that article it described statement coats as 'timeless, classic and an investment' and we couldn't agree more.
No Need to Look any further for the Best Trench Coats Women Need for Spring
So, the issue is finding the right jacket, sure, there are so many choices when you type into that google search bar. 
The return of information is massive…you get photo after photo and soon get so burned out that you give up looking for this classic outerwear.
But we've made it easy by searching for the best designer option for you, and these simple tips should equip you to be well prepared to Rock the Best Trench Coat to wear this spring.
Not only have we scoured the web in desperate measure, but we have found some great, quality choices!
We narrowed it down to meet our standards, which, we might add, stands at an almost unreachable height 🙂 Ok, we'll cut through the talk and get to it…
CHECK OUT OUR TOP PICKS – 5 TRENCH COAT PICKS FOR SPRING
Pick #1 – THE ACRONYM TRENCH A+W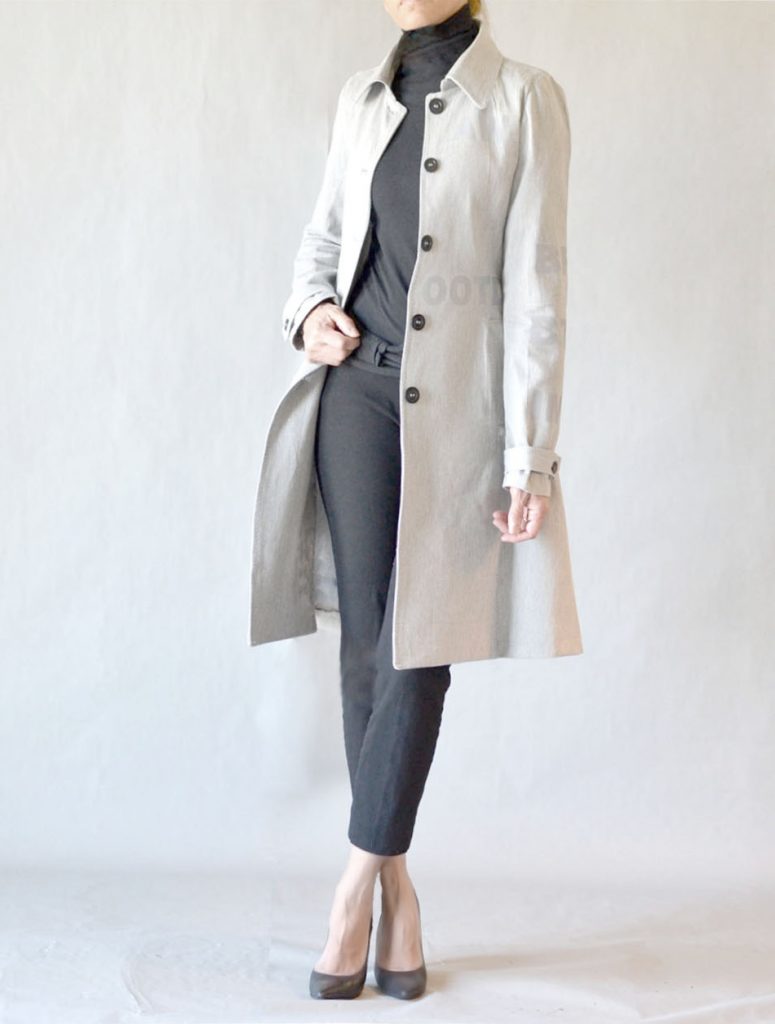 We Love this Trench Coat. The Cut and Color just goes with everything. There is a youthful easy look with obscure lettering, the quality is top notch and it's the perfect length. Buy one today and enjoy free shipping!
PICK #2 -MUNTHE Nill TRENCH COAT 
This Coat is a great choice because the statement, style and oversized fit. It's makes a classic statement of confidence. The stunning trench is such a great choice for spring. This is a great transitional piece.
PICK #3 – The SOIA & KYO KYA TRENCH COAT
This Trench has an easy look and modern vibe and this is why we love this capsule classic, it's a crisp spring solution for a relaxed look that will keep you covered in style, whether you wear it open or closed you will exude style in this look.  
PICK #4 THE JIL SANDER TRENCH
This Statement Trench Coat is a look for Spring that says it all. This long trench coat is a perfect example of what we call a minimalist coat. The cut is sleek and stylish, and the relaxed fit that's what we love. Shop Today at Nordstrom and add it to your wardrobe today.
PICK #5 –  TRENCH COAT
This Spring Coat is a classic silhouette and the price is amazing and it's sold at Banana Republic.  This Trench is simple with clean lines and we just love the 'style' it's so relevant! It's a neutral color and made of Cotton. It would be a stylish addition to your closet as well as just a true classic.
So There You Have It! The 5 Best Trench Coats Women Need for Spring or Fall!
Let us know if these coats worked out for you, we would love to hear about it.
To stay updated on future posts, sign up for our email list and we will keep you posted on great finds that can help you find what you can wear.
Keep it simple…