5 GREAT OUTFITS-WHAT TO WEAR TO WORK
This post may contain affiliate links, meaning when you click the links and make a purchase, we may receive a small commission, at no cost to you, if you make a purchase through a link.
Think about how you felt when you received the call that the job you longed for was yours.   The thoughts of what you would wear to work was a high priority. 
But as time goes by, you start to lose excitement and then your work outfits takes a dive.
This article will give you 5 go-to outfit ideas to motivate you and help remind you of what got you started.  
Putting your priorities back on workwear can help put the pep into your productivity.
We also cannot leave out the fact that fashion has evolved so quickly over the past few years.  It has become much more casual but still needs to reflect the professional vibe.   
Style is the thing that never evolves because it's timeless. 
So we have worked to give the modern professional more options for work outfits.  We all want simplicity, not complicated.
This post contains affiliate links, which means I may receive a small commission, at no cost to you, if you make a purchase through a link.
What to Wear to Work

 
1. Simple, Easy Look
This Top is available at ANGIE + WES.  The Casual Clean Look for Work.  The statement of this top is class with a dash of simplicity. 
We believe you should start off your day with a positive statement and this is a great top.  
2. The Easy Cotton Top
This cotton top made by ANGIE + WES with front flower accent will make the work outfit fun and comfy.
Wear this top any day of the week you choose and raise the roof on your mood, this look is sure to do it.  
3. Super Cute Navy Dress
This super cute staple navy dress is for the female executive wardrobe and is a great idea for you to wear to work. 
Some days you just want to celebrate yourself, what you've accomplished.  How far you've come, thanking God for giving you another day and the ability to have a great job. 
Shop this Smart look at ANGIE + WES.
4. Upscale Millennial
These Flare pants are a great idea for the office and beyond.  It's got a simple but edgy style.   Get them from Shopbop.
5. Easy, Sleek Dress
This dress from ANGIE + WES is easy for the office. We've chosen an easy dress that can be worn throughout the year and gives off a polished and professional vibe and for those meetings that require a dress up.
It's so simple and easy, but hard to explain the high quality of such a simple and clean look, but we did it.  
---
Things to Consider when choosing what to wear to work
Consider these '5 Options' for what you can wear to work. Make a mental note that quality is that key ingredient you should always start with.  It should always be the first layer of whatever you do.
Once you start building your wardrobe with quality, also consider colors.
Black, dark navy, gray, white, pale and muted colors are more versatile and can last forever without ever going out of style. 
Careful with the bold colors.  Most women say they want color but their closets say something completely different.
Finish off these work outfit ideas with quality shoes and jewelry and always remember less is more. 
Outerwear to wear to the Office that We Love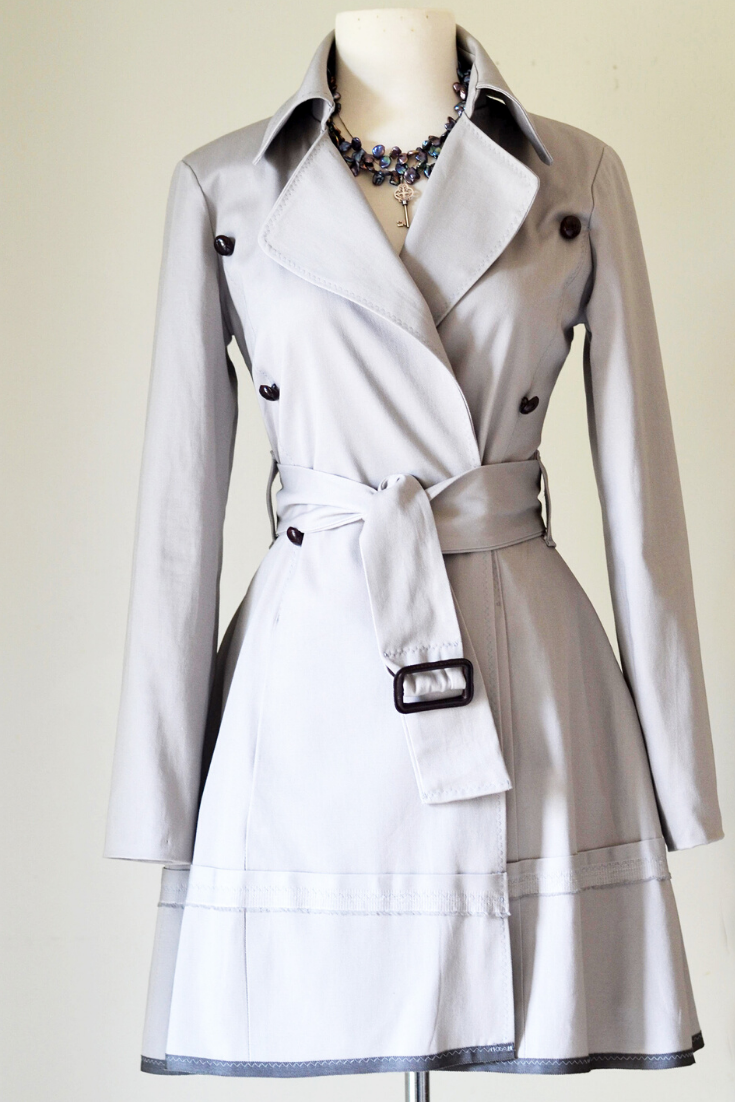 For Outerwear, well, let's just say that's the piece that everyone will see you in.
When you get to the office and take off your jacket or coat most people will only see your work outfit. 
When you leave and where ever you may go afterwards, your outerwear is what most of the world will see you in.
Make it count, always select a well made jacket or coat that makes a statement of timeless style.

That way you will have no need to replace it season after season.  Choose wisely with your outerwear. 
Your purse is also an important piece whether it is a tapestry bag, leather bag or canvas. 
Your bag should be the one thing in your outfit that says, 'dreams come true.'
When you shop for your handbag make sure you put some care into it.  Your purse says so much about you, whether you believe it or not.
This Oversize Alexa Leather Satchel made by Mulberry and sold at Nordstrom can be carried with all the outfits featured and would totally make a statement.
Tips we have for you. . .
So we all get busy, and have 'more important' things in our lives that need more attention than our clothes.  Most of us don't place clothing as a high priority. 
But that doesn't mean we don't long to look amazing, face it, when you look good you really do feel better.
While we are offering great work outfit ideas, we also encourage you to take care of yourself and be sure you're connected and staying in contact with God.  Following this tip will give you hope and a reason to care about what you're wearing.
One thing that makes going to work everyday more challenging is the idea that we can have the options to dress up or dial it down, not too far down. 
There are limits, so we think the way these pieces are put together you can go to work knowing you are setting a precedent for confidence and pure humility.
Wrapping up What to Wear To Work
Lastly, For those women who work from home or maybe outside of the office.  We don't want you to think for one moment you are excluded from this list. 
This post is for what to wear to work so wherever you work, we hope you will find one of the work outfits helpful.
This is just a helpful guide to point you in the direction of finding quality pieces that are easy and wear well.
If you were were able to nail one of these looks, we wanna hear about it, drop us a note and let us know what you did and how it went.
To stay updated on future posts, sign up for our email list and we will keep you posted on great finds that can help you find what you can wear.
We will keep you up to date and promise not to clog up your mailbox…
5 Great Ideas for What to Wear to Work