5 BEST SHOES TO WEAR WITH A PENCIL SKIRT
Are you looking to find the perfect pair of shoes to wear with a pencil skirt? 
We've got you!
We know how time consuming it is to find the best option so we found the best shoes for you to wear with a pencil skirt. 
It can be a little discouraging to finally find the best pencil skirt that's a great look on you and not be happy with the shoes you have to wear with it.
The first and maybe the most important thing to get out of the way is to decide your shoe style and whether or not you can actually rock the 3 – 4 inch pumps.
But this list is for everyone whether you want to wear high heels or flat shoes.
You want to keep your feet happy and healthy so when you wear flats they should have at least a 1 to 1-1/2 inch heel.
Keep this in mind when you shop for ballet flats.
Pencil skirts are available in different lengths and lend themselves to a classic look.
We have attempted to stay true to the classic style that these skirts were designed to showcase and share the different ways your look can come together.
Looking good is the goal but safety is always first. If you are unable to walk in the 3 inch heels with ease, simply go lower. 
We have found shoes to wear that will compliment your entire look.
Choosing the right shoe can make all the difference to complete a stylish look no matter what you're wearing.
We've got you covered to give you a great option that suits your taste with the best choice of shoes that will turn heads and generate a compliment or two.
THESE ARE THE 5 BEST SHOES TO WEAR WITH A PENCIL SKIRT
1. Our #1 Fav Pair
These Shoes are amazing. They are 4 inches high and are actually pretty easy to walk in, however they run a half size smaller so be sure to order 1/2 size larger than your normal size.
Expect to ROCK your Pencil Skirt with these as the accompaniment.  Obviously, these shoes are great for summer and warm climates, so the only down side is they are seasonal.
Renew the look with an Organic Cotton Crewneck Top with a popping necklace and earrings.  
There is no end to reinventing the looks you can create with a versatile pencil skirt.
Pencil Skirts are a perfect way to emphasize and compliment a shapely silhouette.
Because of the taper at the hem, it displays a figure flattering and feminine look.
2. Our #2 Love these Shoes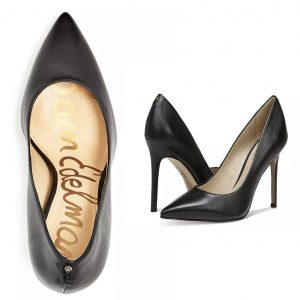 Sam Edelman Hazel Pump –  $140.00 at time of publication
These Shoes will take you everywhere. How? 
Because whether the event is for casual wear or formal, they will always be a good choice. 
They are basically 4 inch heels (to be exact 3.75 inches). 
Black pumps are always a good idea but if you choose this brand, you'll be happy to know they are also available in a variety of colors (we love the Burgundy).
These shoes look great with an easy pullover boxy cotton crewneck top with a knee length pencil skirt and minimal jewelry.  This combination would blow this look up (in a good way).
By the way, we want to emphasize the importance of wearing all of our shoe choices with bare shaven legs. This is key to a perfect look.  
3. Our #3 Awesome Shoes
SCHUTZ Women's Boris Slingback Pumps –  $118.00 at time of publication
We believe this pair of Shoes will offer a refined and upscale look to any pencil skirt.
They have a 3 inch heel. They speak volumes in the legends of style. 
Expect compliments and confidence when you wear these beauties. The reviews are good and confirm this would be a great choice to add to your shoe collection. 
More importantly, they will be a perfect choice to wear with your pencil skirt for a chic look.
4. Our #4 'Tie them in a Bow' Shoes
Alexandre Birman – Clarita Knotted Sandal – Starting at $595.00 at time of publication
We call These Shoes our 'Go-To' because they have a neutral color and will basically pair gracefully with most any color because of the neutrally friendly color. 
The heel is 4 inches high and the cost of these shoes is also on the high side.
The heels are substantial, so they offer a good amount of support, and feature a cushioned foot sole. 
The possibilities are endless and the reviewers are raving. 
Think about it, if you have paid this amount of money for a pair of shoes and still leave rave reviews about them, I think that says all we need to know.
These shoes will look amazing with your pencil skirt with bare legs of course!
Try pairing these with a simple pullover cotton sweater and a short pencil skirt that falls just above the knee in a monotone color. 
If you can find a neutral color that would be a perfect match that would be a great clean look for this combo.
Today, the pencil skirt still reigns even with the new work from home and office casual dress codes. 
It's still a great way to dress for business casual office wear even for TEAM MEETINGS.
5. Our #5 Fav Shoes
Tory Burch – Eleanor Loafer Pump – Starting at $368.00 at time of publication
This Shoe has an upscale look. For our very last pick, we are featuring the Tory Burch Shoes.
I have always loved the Tory Burch emblem and when I came across these with the 1-1/2 inch heel the sirens went off.
This is the shoe that will go great with a pencil skirt that falls above or at the knee.
A long pencil skirt would not be a good look with these shoes in our opinion.
The shorter heel just doesn't give you the height that is needed to create the look you may be going for. 
So if you do choose these shoes for your pencil skirt just be sure it's at or above the knee.
We love the structure of this shoe and how it was designed.
Very hard to find a low heel with so much personality but here she is! The heel is 1-1/2 inches and has a rubber sole. 
THE PENCIL SKIRT WE LOVE
Before I started designing I couldn't find a skirt that actually looked good on me.
It seemed like every time I'd try on a skirt it made me look frumpy.
It took years to learn how to construct and create a pencil skirt that looked amazing on me.
The gap of not finding a great fit is what guided me into what I love to do.
To create the best things to wear with a great fit that's simple, stylish and easy care and offer them to others finding themselves with the same problem. 
It's my favorite way to give back, offering to others what I enjoy for myself.
You can find the knee length pencil skirt in my Etsy Shop here.
Let us know if you found a pair of shoes that helped you complete your look with your pencil skirt. 
To stay updated on future posts, sign up for our email list and we will keep you posted on great finds that can help you find what you can wear.
We will keep you up to date and promise not to clog up your mailbox…