5 Great Outfits to Wear to Work When Working From Home
This post may contain affiliate links, meaning when you click the links and make a purchase, we may receive a small commission, at no cost to you, if you make a purchase through a link.
We've got 5 great outfits of what to wear to work when working from home for the working professional.  You need a bit of definition in this newly carved out workspace.
This top is easy with a bit of fun.  It's comfy to wear working from home. You can dress it up with some pumps or flats to run out and shop.  
CASUAL WORK OUTFITS FOR YOUR WORK DAY
Fashion is not the first thing in your thoughts in times like these but somehow it helps keep the hopes up when you take time to fix up. 
The Organic Cotton V-Neck Top is Great for Zoom/TEAM Meetings 
How are you doing through all this?  Hope you're staying safe and keeping your distance.
5 Great Outfits to Wear to Work When Working From Home
Working from home has been around for decades but has gained incredible traction and with women at the helm.
As stay at home moms are becoming a large piece of the workforce pie, defining the work outfits for this not so public position can be tricky.
We asked these women what they're wearing and here's what we learned: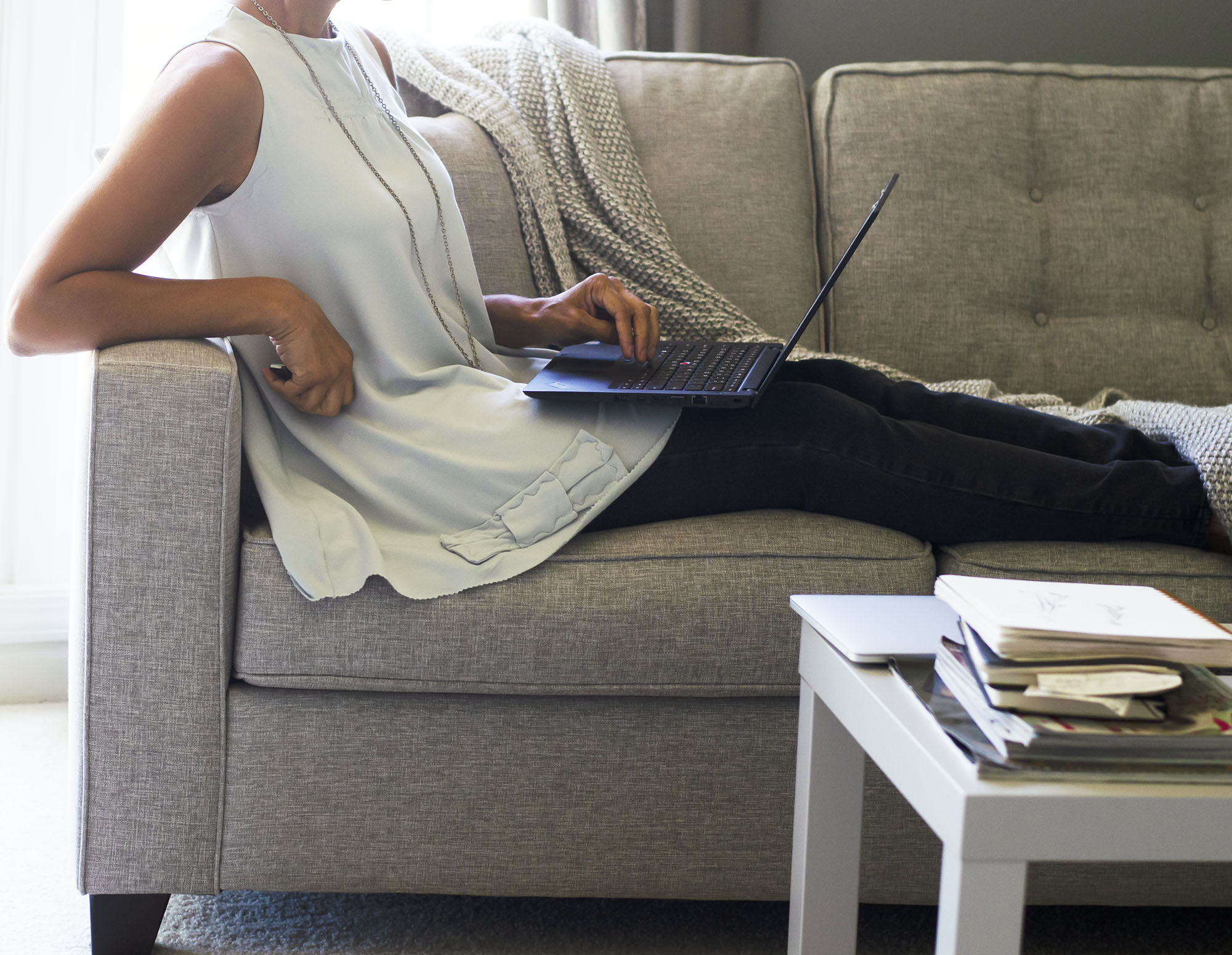 They LOVE to wear easy comfy outfits. They like what they wear but all seem to be on the lookout for the types of clothes they can wear when working from home that can be worn to the store or on errands. 
Something you can hop in the car to run errands, that has style, easy care, and that turns out great after the wash.
This info has helped us try to find exactly what work outfit ideas you would love to wear when you work from home: pieces that are comfy, and stunning enough to make you feel like the Queen you really are.
It is a proven fact that when you look good you feel better.  Just think about those days when you don't take time for you and the times when you do.  It's an added effort but so rewarding.
So take a few minutes each day to get your hair together, earrings, moisturizer, eye makeup and concealer and try out one of the looks in the article that's easy, comfy and really cute.
5 Great Outfits to Wear to Work When Working From Home
#1  The Casual Tee
This comfy t-shirt from ShopBop can be worn at home for work, for errands, shopping and more.  It's playful, easy and simple.  It is comfort and style all rolled into one.  It's an essential work outfit that every woman needs.  
#2  Comfy Leisurewear Dress
This super cute dress a great choice for working from home and being errand ready in style.  It exudes the comfort you need and is simply perfect for home, shopping, and never having the feeling of changing into something more comfortable. Click the Link to Buy this outfit for work from ANGIE + WES.
#3 Simple Easy Outfit
This Easy Outfit can be worn comfortably in your home office and out to run errands.  Bestselling Top Sold on ANGIE+WES
#4 The Easy Cotton Knit Applique Top
The easy cotton knit top with Flower decals from ANGIE + WES is a great add to your work from home clothing collection, it is one of those pieces that breathe and move with you.  This top can take you to the home office, for remote TEAM Meetings, to the local market, and all around town looking great. 
#5 The Comfy Sleeveless Turtleneck
This simple and easy top is what you need for the ultimate in comfort while working from home.  This look will take you where you need to go and you'll look great and feel comfy.
Statement Earrings to add a splash of color to those warm rich dark colors in your closet.
Grab these Amazing Rachel Comey Earrings sold at Shopbop to add splash to a Simple Outfit

That's a Wrap!  5 Great Outfits to Wear to Work When Working From Home. 
Try this easy tee and any one of these outfits and let us know if any of them worked out. Were you more productive? Did you feel a little extra motivation?

We wanna know, so drop us a quick note to let us know your story and even offer suggestions on something we may have missed….
To stay updated on future posts, sign up for our email list and we will keep you posted on great finds that can help you find what you can wear.  We promise not to clog up your mailbox…