7 CASUAL DINNER OUTFITS YOU'LL LOVE TO WEAR
Are you planning to head out on the town for dinner and can't find the right outfit to wear?  No worries, we've searched for you and will show you what we've found for you and we'll tell you how you can get them.  We are going to show you our top picks of casual dinner outfits you'll love to wear!
Sometimes, we get a call to meet up for a casual dinner.  We look in our closet, and all through our drawers only to realize we have nothing to wear!
Well, there's nothing wrong with a wakeup call, especially when you can do something about it.  
We all have our favorites, and reach for them first because they compliment us and make us look great.  But they get old and then it's time to update and add.  
Let's get to it:
#1 The Timeless Wrap Dress
This Wrap Dress is sold at Shopbop and Made by Veronica Beard.  This is a great casual dinner outfit choice that's comfy, classy, youthful and fun. 
We would recommend pairing this dress with a casual 2 inch heel or stylish flats. You can't go wrong with this cute dress. 
You can also add minimalistic jewelry that reflects your beautiful personality.  Have fun in this dress and look amazing!  
This post may contain affiliate links, meaning when you click the links and make a purchase, we may receive a small commission, at no cost to you, if you make a purchase through a link.
#2 The "Always Timely" Cashmere Sweater
This amazing cashmere sweater is sold at Shopbop and Made by Lisa Yang.  It's overlong sleeves are a perfect choice for a casual dinner outfit and oh, so, cozy. 
You can wear this as shown on the model with leggings but it can pair very well with your favorite pair of jeans with flats or pumps. 
This top gives you the clean upscale casual look that wins every time.
#3 The 'Just Right' Jacket Ensemble
This outfit is sold at Macy's and made by Tommy Hilfiger.   The Jacket just says class.  These Pants are so versatile and cool.  The Top simplifies the look. 
We also want to highlight how the shoe selection for this outfit takes it to a higher level.  See how it puts an exclamation point behind this look?  
Basically, you have the simplicity of a comfy pair of pants and top, accentuated with a jacket, and pumps to ramp up this casual dinner outfit you'll love to wear.
#4 Casual 'Happy Day' Outfit
These Pants are sold by Macy's and made by Bar III.  They're a great choice for a casual dinner outfit.  We Love this Look. 
It's a great fitting pant with a really nice cut that flatters the figure, not so in love with the studded trim on the shoe as shown but it's just a matter of taste and we prefer the pumps shown below and sold at Nordstrom. 
This look immediately invokes a happy message due to the bold jazz berry pants and the floral top, which also adds a great compliment to this casual dinner outfit.
#5 Pop of Color Dress
This Dress is sold by BCBG Maxazria and made by Melanie.  You want to make a statement especially because it's casual and how awesome a statement will you make when you walk in with this dress? 
We love how eye-catching the color and prints pop on this outfit.  If you are thinking of ordering this dress, move quickly because the reviews are glowing and the sizes are leaving fast!
#6 The Easy Tunic Casual Dress
We are Loving This Black Dress Sold by Macy's and Made by JAMIE & LAYLA.  The idea of owning a dress that can change the game for you is priceless!  Well, it's actually a great price for this dress and it can be worn almost anywhere, and it has pockets!  
Throw on a pair of pumps and it can be dressed completely up and then again there is the cost – it is just so easy to add this dress to your wardrobe and the reviews are great!
Wear it to the coffee shop, church, work, social visits, after work activities, there is no end to where this casual outfit will take you. 
#7 Our Last but 'Loving it' Casual Outfit
This Top Sold at Nordstrom and Made by Rails is a great add to create this dinner casual outfit paired with the jeans and pumps (shown below).
 The Jeans also sold at Nordstrom and Made by 7 For All Mankind are the star of this show. We adore the straight cut.
And with every star, the supporting cast is critical, so we have also added the shoes below sold at Nordstrom and made by Sam Edelman.
These are staples that every working woman needs to celebrate herself while also nailing the look for the casual dinner outfit.
The Secret Sauce for the Casual Dinner Outfit
T

HESE

S

HOES !!!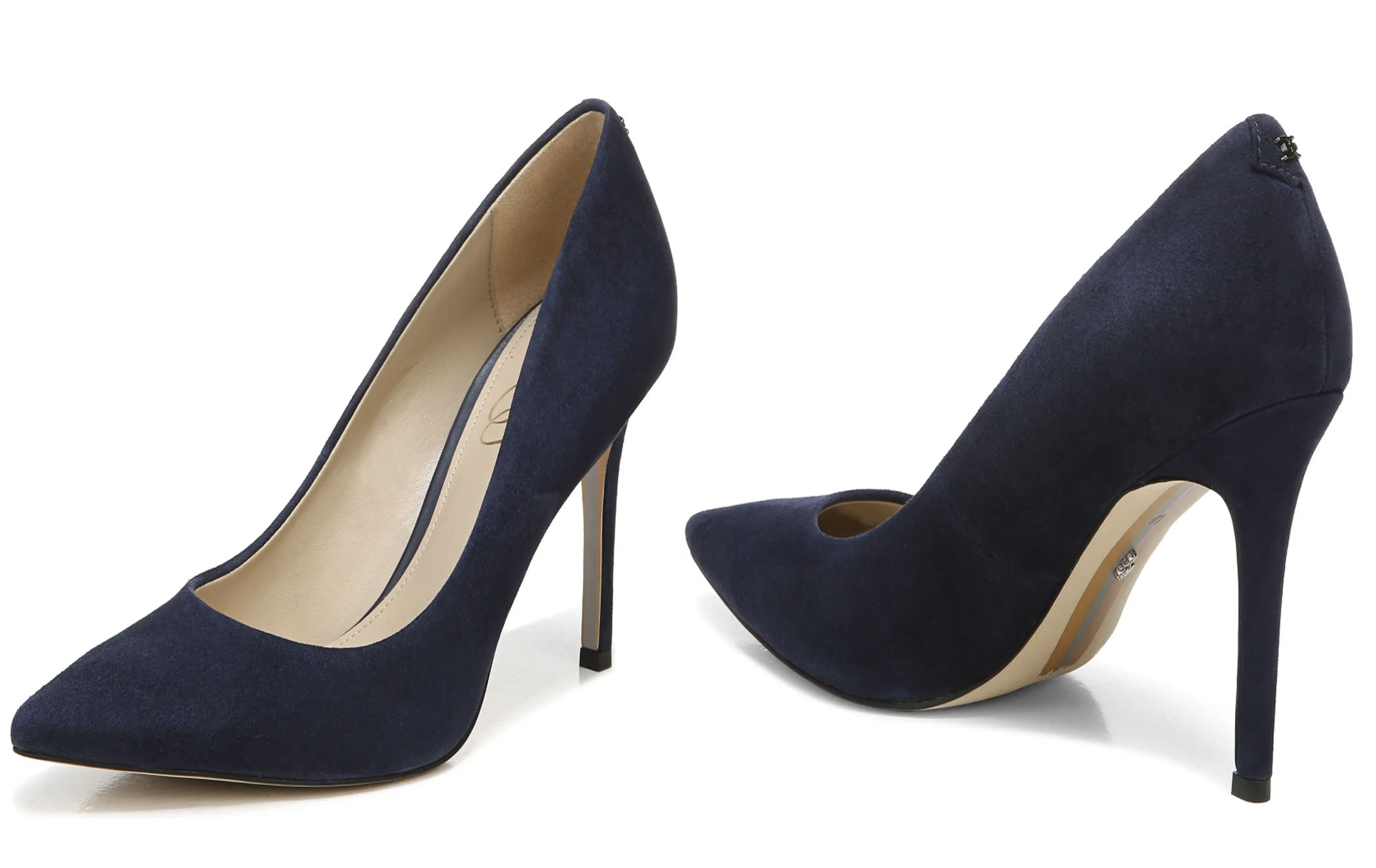 So planning your outfits should always include closing the deal with the perfect shoes.  These shoes sold at Nordstrom and made by Sam Edelman come in an array of beautiful colors and materials. 
Some of them are leather, the shoes shown above are dark navy suede and they also come in colorful abstract prints.  The style of the shoe will dress up your jeans, skirt, and make any casual dinner outfit pop with class. 
They're our top choice for your feet for any casual dinner outfit.
That's a Wrap!
We've done our homework and hope you've found your favorite casual dinner outfit in our list to add to your lineup so you can look and feel amazing. 
To stay updated on future posts, sign up for our email list.  We will keep you posted on great finds that can help you find awesome looks and outfits to wear. We promise not to clog up your mailbox…