5 GREAT IDEAS OF WHAT TO WEAR TO A BABY SHOWER
This post contains affiliate links, which means I may receive a small commission, at no cost to you, if you make a purchase through a link.
Have you been searching for Great Ideas of what to wear to a baby shower? We can help! 
Whether you're the guest of honor or a guest, check out our picks to help you nail the look with baby shower outfits that will make you look amazing. 
The Baby Shower is one of those events that most of us look forward to. And rightly so, it's always a blast!
We are giving you a great option to choose from based on our well sought out selections of what to wear to this special occasion as a guest or your own baby shower.
No need to sift through hundreds of dresses to wear, we've got a good option for you.
Just getting the invite to the shower always pushes the excitement button. It's such an honor to be invited for such a special day. 
Baby Shower Moments
If the invite is for the very first child, it adds so much joy that it just can't be explained, there is nothing like a new baby. 
Everyone in attendance who has ever given birth will come well equipped with their encyclopedia of what this new mom will encounter, from the whole drawn out labor event to preschool.
It's one thing to plan to have a good time at the baby shower and another thing to feel good about your outfit choice and we're here to help.
There are games with prizes, social engagement and just plain fun.  Watching the gifts (especially yours) being unwrapped is always exciting. 
And just imagine the pictures you'll be featured in, so it makes sense to wear an unforgettable outfit.
Whether it's a casual baby shower, an outdoor baby shower or held at a country club, you want to be sure to rock the dress code.
It's also a good idea to choose the right outfit for the time of year when the shower will take place. A summer baby shower will require a completely different outfit than a winter baby shower.
TIPS FOR THE LITTLE THINGS TO WEAR TO THE BABY SHOWER
Accessories may seem small but they're an important piece of the puzzle and a good choice in creating a complete look. 
Bracelets that are minimal are dainty and can always be a great idea and a perfect way to add a little more personality to your baby shower outfit ideas.
These earrings would pair well with our first pick of the Black Aline Dress.  It is a perfect choice because of the fun, easy look. The best way to highlight this dress is to add an earring (the earrings shown can be purchased at Bloomingdales by clicking 'Shop') they would be a great way to complete the look.
These earrings from Shopbop would be a great choice to pair with our 2nd pick dark navy dress.  We think a simple dangling drop earring would be the right choice as shown in the photo.
So choose wisely, if you're wearing a bold dress it's a good idea to wear a simple earring, maybe diamond studs or pearl posts.
These are all classy and different types of looks, because you need choices. but we've chosen what we believe are the 5 Best Outfits for you to wear to Baby Shower.
5 BEST OUTFITS TO WEAR TO A BABY SHOWER
1.  Our Top Pick To Wear to the Baby Shower
Cotton Dress with Matching Cardigan(Cardigan sold separately) – Starting at $158.00 at time of publication
The elegant yet simple Cardigan and Knit Dress is a perfect look. Most women look great in dark colors so this is a solid choice for baby shower dresses.  This dress has bit of style added to the front in a self bow.
2. Our #2 Pick to Wear to The Baby Shower
Dark Navy Dress w/Back Bow – Starting at $158.00 at time of publication
We love the look of this dress.  It is the perfect dress for any occasion that calls for a statement. There is a back bow at the waist that is simple and timeless and is made in an easy pullover. A simple classy look with a simple pair of high heels (pumps preferably)
3. Our 3rd Pick to Wear to The Baby Shower
Gray Tunic Top w/Front Bow – Starting at $68.00 at time of publication
This top is designed by ANGIE + WES and is a great choice to wear to a baby shower. This outfit is for the lover of style, ease and simplicity. It is for the girl who wants to have that cute look that's comfy and classy.  
4. Our 4th Choice to Wear to The Baby Shower
Organic Cotton Swing Dress – Starting at $158.00 at time of publication
This simple classic dress is comfy and made with organic cotton fabric. It's fun, classy and simple. It will allow you to show off a chic look without compromising comfort. It's not always easy to find a simple yet stunning piece like this. But it allows you to add your own style to a blank canvas.
5. Our #5 For You to Wear to The Baby Shower
Charcoal Gray Dress – Starting at $158.00 at time of publication
When the shower calls for a more formal guest appearance. We love this little gray number for the event. It's a pullover dress with a tasteful front bow. You can not only look amazing but you will feel comfy.  This dress can be paired with any color pump you choose.  
BONUS LOOK FOR THE CASUAL BABY SHOWER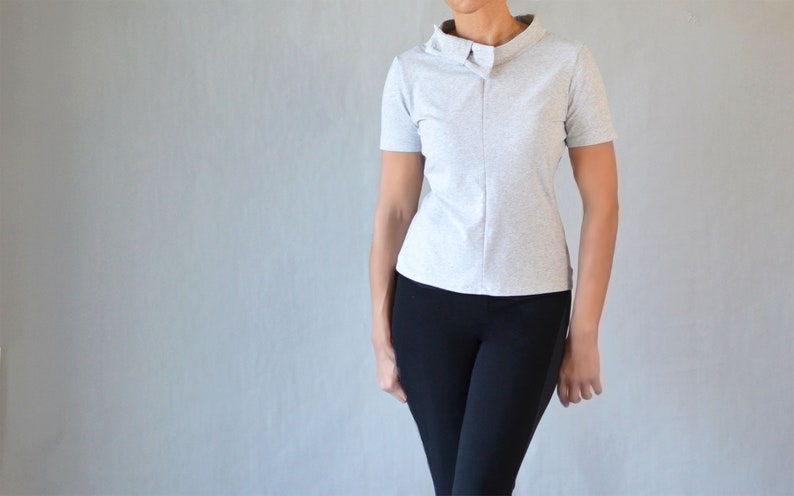 Gray Organic Cotton Top – Starting at $68.00 at time of publication
We really like this top. This top is fun, classy, sustainable and simple and can set the tone of the event. It will allow you to show off a polished look and make a fashion statement.
The knit fabric will move with you with comfort only knits can offer. Simple Dangle Drop Earrings worn with black slacks or a simple skirt will add a nice finishing touch.
Hopefully, you can use one of the 5 Best Outfits to wear to a baby shower with the looks we've suggested. At the end of the day you wanna make sure you had a good plan and saw it through.
Fashion is so personal, but sometimes we need inspiration, actually, we always need inspiration to continuously improve our look and our life…
To stay updated on future posts, sign up for our email list and we will keep you posted on great finds that can help you find what you can wear. We will keep you up to date and promise not to clog up your mailbox…
5 GREAT IDEAS OF WHAT TO WEAR TO A BABY SHOWER