10 Cleaning Habits To Make Your House a Home
Learn the Cleaning Habits to Make your House a Home. 
These are great tips on the cleaning habits to make your house a home that will work for you. 
Getting into these cleaning habits will become effortless once you start the habit. 
I grew up with a Mother that ran a tight ship raising her three girls.  She taught us to clean from very early ages. 
Did she have favorites that got off the hook every once in a while?  NEVER!!!!  How or where this woman got this moxie I'll never know. 
But whatever it was has been grafted in my mind and I can't get away from the lessons I've learned on how to clean. 
I guess you could just say I put into practice what I was taught.  I have also learned new skills in cleaning and keeping a clean home. 
Yes sometimes it gets junky, but it's clean.  You don't wanna live in a museum you wanna live in a clean house and I'm gonna share with you how to do this.
10 Cleaning Habits To Make Your House a Home
1. Make The Bed
What faces you each morning after you get up?  Your bed. 
It takes a complete 2 minutes to make it up each day, when you get up – make it up, move the clutter to the designated places and voila!
The Sheets should be changed Weekly – Don't delay this – we already have confidence you hop in the shower before bed each night and even with that it's important to change the sheets…check these out at Nordstrom and enjoy the organic clean feel of cotton.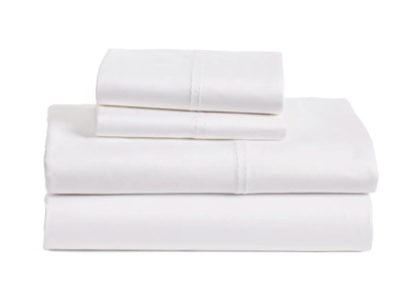 2. Cleaning habits for the Bathroom
Clean the bathroom.  Once you brush your teeth and wash your face which I trust is done every morning. 
It takes a complete 5 minutes to gather up your clothes wipe up the sink and counter and straighten out or replace the towels.
3. Cleaning habits for the kitchen 
So, if things were amazing and you cleaned it up the night before you don't have much to do. 
However, if there are dishes left out that need to be washed that also does not take more than 20 minutes. 
Just run a sink of hot soapy water, put all the dishes in there to soak …wash off all the counters and table. 
Unload the dishwasher, put up the dishes, pots and pans and load the dishwasher with the dishes soaking in the sink and wallah!  
How to Keep the House Clean
Does the floor need sweeping?

 
Use an automatic sweep vac, I recommend the shark. 
Bed, Bath and Beyond is where I found mine and I love it but you can find them at Kohl's here.  Opinions may vary but it's got my vote.
Once you've swept the floor, use a hot soapy mop or cleaning rags to wipe down the floor. 
If you are one who like me, likes to get down and get every nook and cranny, just use pads for your knees. 
If that's a bit too much for you – just simply use a mop and be very careful not to slip while working.
Let's face it, cleaning is an exercise regimen in itself.  Wipe up the stove.  With all the counters and table cleaned and no dishes in the sink…your kitchen is good to go.
4. Cleaning Habits of Picking up 
Pick up anything on the floor that has a place, and just take time tidying up the place.  This also takes just seconds to do.  
5. Laundry
Once you get home from work (for the stay at home moms well, it doesn't really end)…but it's ok, it's just laundry, but it takes a good 15 solid minutes to throw the clothes in the washer. 
Right after the washer is done, put the clothes in the dryer.  If you wait too long to move the clothes from the washer to the dryer…you're risking the mildew smell and you don't want that. 
So do this on the same day…you can always heat up the clothes when you're ready to fold – It's best to fold them while they're hot.  Put them up and the job is done.
6. Take out the Trash
Make a 10 minute drive to the basket – the waste basket. 
Empty the trash from the main source, normally the kitchen and bathrooms and take it out…this will keep your house smelling clean.  This habit is based only on when it fills up.  
It's also a good idea to have small wastebaskets at every station, living room, family room, home office, weight room, etc.
7. Wipe Down Spaces & Dusting
This seventh habit is not so much a daily task as it is weekly.  So there was a woman that cleaned our house and the smell was clean and perfectly balanced. 
Sometimes you will get someone to clean and the smell is strong enough to make you grow a beard.  But this smell is clean and just right. 
I asked her what she used and that was over 25 years ago and I still use the same process just changed up one of the cleaners. 
This amazing mixture smells so clean and it is as simple as can be (I've switched over recently adding Mrs Meyers).
To make it you will need:  Mrs Meyers Lemon Verbena – All Purpose Cleaner, Murphy Oil Soap (original) and Dawn Blue Dish Liquid – the key here is the amount you use… 3 capfuls of Mrs Meyers, 1/4 cup of Murphys Oil Soap and just a squeeze of Dawn Blue Liquid. 
Add this mixture to a half sink full of hot water and your house will smell like a dream come true.
Use this on countertops, floors and walls.  You may want to adjust this mixture as you become more familiar but this is what I do.
Be sure to dust weekly, the vents, ceiling corners, hanging pictures etc.  It matters and makes a difference.
8.  Vacuum 
The eighth habit is one of those as-needed habits you should adopt.  Vacuuming is one of those things that is not needed everyday. 
If something is spilled or maybe visitors came by and the rug or carpet needs refreshing, it only takes 10 minutes to do a couple of rooms. 
The practice will help the life of your carpet and keep your house clean, at least weekly this should be done.  I have always required my visitors to remove their shoes and leave them at the front door. 
Nobody wears shoes upstairs or down in my home, if you can adopt this habit you'll love me for it.  This will preserve the life of your floors and carpet and is just a great germ eliminator.
9.  Clean the Shower & Tub
Cleaning the Shower and the Bath tub is critical.  This is not my favorite which is why it is so far down on this list but I love a clean shower and tub so it has to be done.
I use the same mixture as mentioned in the seventh habit.  Sometimes when I wait too long to clean the shower doors, I need to call in the Marine of all cleaners, the SOS pads. 
These little babies with the help of some hot soapy water will break through the enemy of dirt like a true commander.
Clean shower floors and bath tubs with a mild mixture of hot soapy dish soap of your choice and a capful of white vinegar. You don't want to ruin your grout so for deep clean use SOS pads along with your hot soapy water.  
Comet is amazing on tubs and sinks in the bath and the kitchen.  You may not like cleaning the shower or tub but it sure makes a difference when you get into a clean one.
I recently purchased a squeegee for my shower doors and what a great tool!
10. Windows & Screens 
Clean the windows and screens.  I saved the very thing I do once a year for last.  It must be done. 
And, yes sometimes, when little fingers find their way onto the windows throughout the year, I will clean them as needed, but this big job usually waits for spring. 
There is nothing that says clean like sparkling windows.  I simply use Windex. It works very well for windows, mirrors and chrome for a great sparkle.  
I also open the window when I use it because I find the smell a little strong, and you don't want to breathe in any chemical in a closed in space. 
Cleaning Habits need 'The Candle' 
I have so much to say about smell and when visitors come to see you the first thing that greets them at the door is the smell. 
So Nail the Smell.  They will remember it.  I love the electric candle warmers that plug into the wall. 
I usually buy the large Candle and keep it warming all day.  It stays solo, away from anything that could cause it to overheat. 
It's safer than a burning candle, and being married to a Firefighter, it's the only way to go.
Hopefully you can use these tips and change your habits to make your house a home.

To stay updated on future posts, sign up for our email list and we will keep you posted on great tips that can help you find what you need to improve your lifestyle. We will keep you up to date and promise not to clog up your mailbox…